Bitcoin's rally has been marked by strong accumulation by long-term holders.
The number of BTC on exchanges has decreased strongly in recent months, despite the rally.
Analysts think that this can be attributed to institutional players buying Bitcoin for the long haul.
These investments are expected to drive BTC higher over time as the supply of coins on the market decreases.
BITCOIN SUPPLY CRISIS BEGINS AS COINS LEAVE EXCHANGES EN-MASSE
Analysts think that Bitcoin is in the midst of a supply-side crisis as BTC pushes to fresh all-time highs. While some of the recent rally has largely been driven by derivatives buyers, it has clear that there is a large amount of BTC being accumulated via spot exchanges.
As can be seen, ever since the local highs seen during the February rally to $10,500, the number of Bitcoin on exchanges has been in sharp decline. Schultze Kraft and others see this as a sign that Bitcoin is in the midst of a supply and liquidity crisis, which should push prices higher over time:
"#Bitcoin is in a supply and liquidity crisis. This is extremely bullish! And highly underrated. I believe we will see this significantly reflected in Bitcoin's price in the upcoming months. Let's take a look at the data."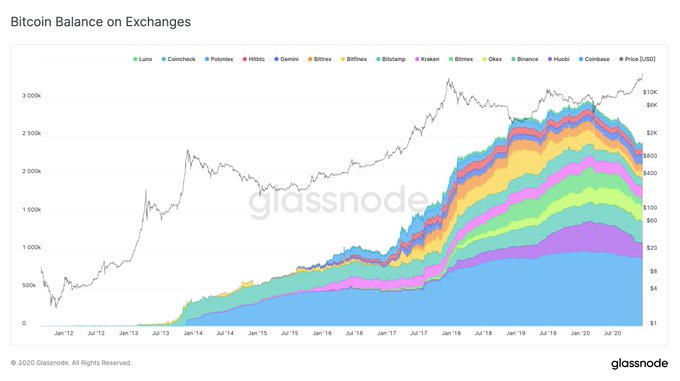 INSTITUTIONAL BUYING PRESSURE
Earlier today, MicroStrategy confirmed that it has finished purchasing 30,000 Bitcoin:
"TYSONS CORNER, Va.–(BUSINESS WIRE)–Dec. 21, 2020– MicroStrategy® Incorporated (Nasdaq: MSTR) (the "Company"), the largest independent publicly-traded business intelligence company, today announced that it had purchased an additional approximately 29,646 bitcoins for approximately $650.0 million in cash in accordance with its Treasury Reserve Policy, at an average price of approximately $21,925 per bitcoin, inclusive of fees and expenses."
This adds to the 40,000 Bitcoin it has already purchased over the past few months.
Just the other week, American life insurance company MassMutual confirmed that it had bought $100 million worth of BTC. The company was joined by other life insurance/insurance companies, though the names of these firms were not revealed.
This article was taken from Bitcoinist.